Transistor Sandwich is an expanding collection of royalty-free songs that you can use in your own projects. Each song is composed live online, streaming weekly on Twitch.tv/TransistorSandwich.
About Me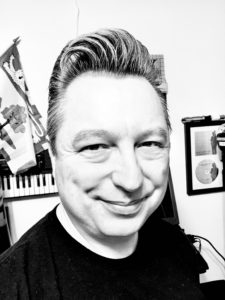 My name is Tony Gamble, and I grew up in a tiny community named Alaska, in Prince Edward Island, Canada. Not long after losing my mother to a house fire at the age of six, I was gifted a Bontempi chord organ. I initially found comfort in exploring this avenue of creativity, but it was short-lived. My father remarried and the "noise" of musical creativity was soon to be no longer tolerated by my new stepmother.
It wasn't until many years later, as a teenager, that I once again had the opportunity to explore music-making. Using funds from my first "real" summer job, I purchased a small Yamaha electronic keyboard. This began thrill of coaxing inexpensive synthesizers into creating layered compositions using whatever methods were readily available. This most often meant hacking a multitrack recording process into a consumer-grade dual cassette recorder.
Within a couple of years, I had saved up enough funds to purchase my first proper polyphonic synth. As I'd done all along, I continued to teach myself how to play chords and melodies. Music instruction was never on the table for me, so I figured it out on my own. Armed with these new (albeit dubious) skills, I auditioned for my first rock and roll band. After my second audition, I was the new keyboardist for the rock band "Red Line". We lasted one gig.
When "Red Line" broke up, I was devastated. The unbelievable rush of live performance had left its mark, and I was desperate to get back into a band. Unfortunately, the rock music scene on the Island at that time was quite averse to having a keyboardist. It was all about guitars, drums and vocals. Fine. I'll teach myself to sing.
Within a year, I had trained myself to sing in the style of many of the hard-rocking bands of the era. I worked hard to develop a range that would impress enough to land another audition, and it worked. Before long, I was back together with the boys I'd previously performed with, this time as the band "Kickstart". This group lasted four years and was a huge influence in helping me hone my skills on both vocals and keyboards.
Since these beginnings, I have continued to create and perform music with many bands. Each experience has been paramount in helping me develop my skills and my style. As a keyboardist for the alternative metal band "Dimentia 13", I was forced to step up my keyboarding skills to keep up with their "Deep Purple" and "Frank Zappa" influences. As a vocalist for "JustSpyteMe" and "Liquid Courage", I got plenty of practice widening the range of my singing voice. Finally, I became the frontman for Ottawa-area band "Black Cherry", and this gave me the opportunity to pull back a bit as a vocalist, with less of a focus on stratospheric range and more on style and technique.
These and other bands were all very important in my development as a musician, but all the while, I continued to compose my own music in my own style. Although I was performing in heavy metal, hard rock and later, blues rock bands, my personal style has always gravitated toward poppy, sometimes trippy, electronic music composition. With artist influences ranging from John William, James Horner and Brad Fiedel to Madonna, Aha and Pseudo Echo to Queensryche, YES and Faith No More, I feel like I have so many creative avenues to explore in music. Transistor Sandwich is a reflection of this.
Transistor Sandwich actually dates back as far as 1993, when my band "Kickstart" decided to wrap things up. At this point, I decided to release my own album using just my synth rig and a 4-track Tascam recorder. The first release was titled "Homography", a celebration of my coming out as a gay man at that time. The follow up album, released later that same year, was titled "Transistor Sandwich". The title was a reflection of the process I employed to produce the albums: several low-cost synths sandwiched together live and on multiple layered tracks in order to create a bigger, "pro-synth" sound without spending thousands of dollars. The name stayed with me over the years, and when a friend suggested I consider doing something with it in this new era of the Internet, I registered it as a domain. A few years later, I finally developed a plan. I wanted to create a library of instrumental music suitable for use as background music in video projects. In an effort to keep it moving forward, I committed myself to a weekly schedule. Initially, I recorded the sessions to be released as YouTube videos, but eventually my husband convinced me to stream the sessions live. After a few stops and starts, the "Transistor Sandwich" live stream was born.
Creating music has been a comfort zone for me since 1977, and I look forward to building, shaping and sandwiching together musical pieces of myself in new and exciting ways for a long time to come.