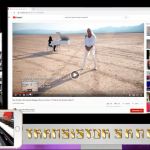 Back in 2016, Dee Snider partnered with illusionist Chris Angel to release a heartwarming rendition of the Twisted Sister rocker "We're Not Gonna Take It" to raise awareness of Angel's new cancer charity. It wasn't until recently, though, that I became aware of this version. My impression was that here was a song which I had grown up with, which decades later had turned around and grown up with me. I find that as I get older, my musical tastes mellow somewhat (although I've always enjoyed some mellow anyway).
Still, I hadn't thought of playing it myself. Not until I'd received a request from a good friend, who was wondering if I could possibly lay down a piano track to which her brother could add a lead vocal (she was dying to hear what he'd sound like). For a couple of months, I picked around at it, off and on. It was a very different style than what I generally play; not that I'm gifted with any generous estimation of talent, but the minimalist approach to some of the piano parts actually began as a bit of a challenge.
I got the parts down and did the basic rinse-lather-repeat cycle for a while. Eventually, I started hearing other parts in there. Parts that weren't there, but I could hear them through a filter of my own imagining. How about a cello here? Beef up the piano with some swelling synth pads? Triumphant french horn at the end? Before long, I was laying down tracks for my very own "transanitized" version of "We're Not Gonna Take It". Check it out below!
Wanna download a copy for yourself? Below, you'll find twoversions: one with lead vocals, one without (but backup vocals are still there). I'd love to hear your version! Post yourself singing it on the TranSan Facebook or Instagram, or send it to me at fans@transistorsandwich.com.